Welcome to the PerGeos Use Case Gallery
Below you will find a collection of use cases using PerGeos Software. Based on the technology of its predecessor Avizo Software, is a robust software platform for visualizing, processing, and analyzing 2D and 3D digital rock image data.
These use cases include scientific publications, articles, papers, posters, presentations or even videos that show how is used to address various scientific and industrial research topics.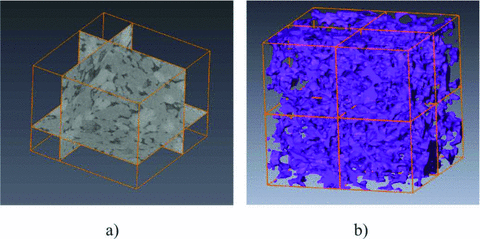 Computational elastic upscaling of sandstone on the basis of X‐ray micro‐tomographic images
Up‐scaling the elastic properties of digitized rock volumes as obtained from X‐ray computer tomography (CT) imaging via computer simulations has the potential to assist and complement laboratory measurements.
This computational up‐scaling approach remains a challenging task as the overall elastic properties are not only dependent on the elastic properties of individual grains but also on the hardly resolvable pore spaces between adjacent grains such as micro‐cracks. We develop ... Read more
Valeriya Shulakova, Marina Pervukhina, Tobias M. Müller, Maxim Lebedev, Sherry Mayo, Susanne Schmid, Pavel Golodoniuc, Osni Bastos De Paula, Michael B. Clennell, Boris Gurevich

Read full paper